| | | |
| --- | --- | --- |
| | e-Connection Preview | |
| | | |
| --- | --- | --- |
| | Economic Outlook Conference | |
Get your early bird price while it lasts!
Join over 700 Kansas business professionals at the 37th Annual Kansas Economic Outlook Conference. October 6th is coming up fast and our early bird pricing won't last much longer. Now through September 16th, you can register for your tickets, along with breakfast, for just $120. If you've been on the fence about when to register and claim your tickets, sign up today!

Register below or view the conference agenda at www.eoc2016.cedbr.org.
| | | |
| --- | --- | --- |
| | Gap Analysis | |
Kansas Gap Analysis: Grocery Stores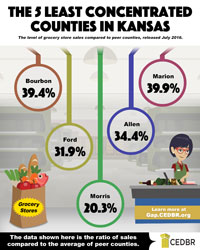 Grocery stores are an important part of the retail sector in many Kansas communities. CEDBR, as part of research in Kansas' retail sector gaps, has analyzed sales in the grocery store retail sector throughout Kansas.
| | | |
| --- | --- | --- |
| | Population Forecast | |
Kansas Population Forecast: Working Age Population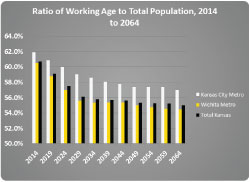 The working age population of the state, ages 18 to 64, is forecast to grow a more modest 10.3 percent, from 1,764,061 to 1,946,380. The over 65 population is projected to grow more rapidly in Kansas, while the under 18 population remains relatively constant over this period.
This growth in the working age population in Kansas is not projected to be evenly distributed. The metropolitan areas of the state are expected to grow considerably faster than the rest of the state over the next fifty years.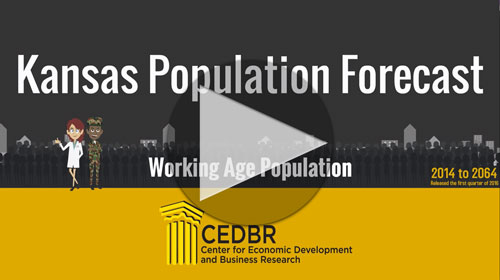 | | | |
| --- | --- | --- |
| | Kansas Industry News | |
2016 Q2 Industry Changes: Manufacturing, Construction, & Wholesale Trade
| | |
| --- | --- |
| Manufacturing | |
| | After years of growth, manufacturing employment in Kansas has been slow to recover from the 2008 recession. Employment dropped to 167,057 from 187,151 in 2008, representing a 10.7 percent decline. Employment decreased another 4.4 percent in 2010. Since recovery started in 2011, employment has moderately fluctuated. |
---
| | |
| --- | --- |
| Construction | |
| Kansas construction was slightly impacted by the recession in 2008, when industry employment declined only one percent. The following year, the recession had a larger impact on industry employment with a 10.9 percent drop from the 2008 level. The construction employment level continued to decrease until 2011, going from 65,211 in 2008 to 52,888 in 2011. Nonetheless, industry employment started to recover in 2012. | |
---
| | |
| --- | --- |
| Wholesale Trade | |
| | Wholesale trade employment in Kansas has moderately fluctuated in the last ten years. In fact, between 2005 and 2015, employment in the industry grew 1.2 percent going from 59,590 in 2005 to 60,283 in 2015. Similarly, durable and non-durable goods wholesale trade employment has experienced little variation in the last decade. |
| | | |
| --- | --- | --- |
| | Misery Index | |
Misery Index Decreasing in U.S.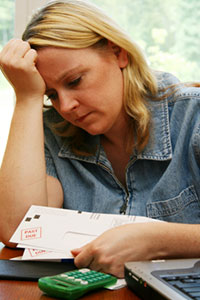 Between the first and second quarters of 2016, the general level of misery experienced by people in the United States decreased and remains well below the 2015 level. This can be attributed to continued decreases in the unemployment rate, low levels of inflation and increases in housing prices. The level of misery in Kansas also decreased between the first and second quarters and remains below the 2015 level.
Within each of the metropolitan areas in Kansas, the misery index remains lower than in the United States as a whole.
The Misery Index, as calculated by the Center for Economic Development and Business Research (CEDBR), includes the following components:
The Consumer Price Index (CPI) from the Bureau of Labor Statistics
The House Price Index (HPI) from the Federal Housing Finance Agency
Unemployment Rates (UR) from the Bureau of Labor Statistics
| | | |
| --- | --- | --- |
| | Unemployment Beneficiaries | |
Profile of Unemployment Insurance Beneficiaries in Wichita, 2nd Quarter 2016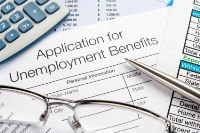 There was an average of 13,311 unemployed people in the Wichita metropolitan area in the first quarter of 2016, approximately 46 percent of whom collected unemployment insurance benefits.1 In the second quarter of 2016, there were approximately 6,120 people, age 16 and over, who collected unemployment insurance benefits. That is a decrease of approximately nine percent from the first quarter of 2016.
In the first quarter of 2016, four industries accounted for 56 percent of unemployment insurance beneficiaries in the Wichita area; manufacturing, construction, administrative and support and waste management and remediation services, and health care and social assistance. Of these industries, manufacturing and health care and social assistance have a proportionately low level of unemployment insurance beneficiaries, when compared to total employment. Construction and administrative and support services have a proportionately high level on unemployment insurance beneficiaries.
Read the full Wichita unemployment insurance beneficiaries report.

| | | |
| --- | --- | --- |
| | Employment Population Ratio | |
Employment-Population Ratio for Sedgwick County & Peers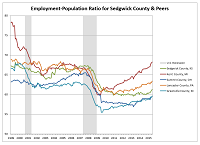 Wichita and similar cities have seen large changes, mostly declines, in their employment-population ratio over the last decade. Many have been more strongly affected by the 2008 recession than the rest of the United States.
After the official end of the 2008 recession in June 2009, Sedgwick County's employment-population ratio continued to decline for a longer period than any of the four peer counties. In 2014, Sedgwick County's ratio began to increase consistently for the first time since the recession, whereas Kent and Greenville Counties began to recover in 2010, Lancaster County in 2011, and Summit County in 2013.
| | | |
| --- | --- | --- |
| | Employment Situation | |
Unemployment Rates Continue to Climb in Kansas MSAs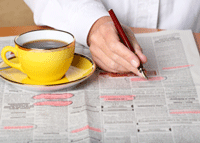 The unemployment rate for Kansas, as a whole, rose by 0.5 percentage points from June of 2016 to July of 2016. Wichita and Topeka saw the largest increase, rising by 0.7 and 0.5 percentage points respectively. Lawrence saw a smaller increase with 0.3 percentage point, followed by Manhattan taking the lowest increase of just 0.2 percentage points.
A slide presentation is available with additional employment and unemployment data for Kansas and its four metro areas.
| | | |
| --- | --- | --- |
| U | Inflation and Prices | |
Midwest Annual Inflation Rates Fall, July 2016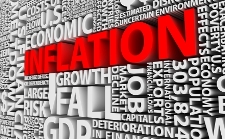 The Consumer Price Index is used to calculate inflation, or the change in price of a basket of goods and services, as it impacts consumers; whereas, the Producer Price Index measures changes in selling prices, thereby expressing price changes from the perspective of the seller who produces a particular commodity.
A slide presentation updated with July 2016 data shows the Midwest inflation rate fell from June to July. While the urban metropolitan areas noticed a 0.61% decrease, the non-metropolitan urban areas saw a smaller decrease of 0.26%.
The Producer Price Index data shows that prices in the United States have increased from July 2015 to July 2016 for aircraft (0.9 percent). During that same time period, the index decreased crude petroleum (-14.6 percent), natural gas (-2.1 percent), slaughter livestock (-15.8 percent), sorghum (-39.4 percent) and wheat (-25.7 percent).
Access this slide presentation.
| | | |
| --- | --- | --- |
| | WSU Indices | |
Current Indices dips slightly, August 2016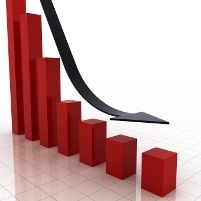 From May to June, the WSU Current Conditions Index decreased by 0.2 percent. The Current Conditions Index increased year-to-year by 1.1 percent from May 2015 to June 2016.
The WSU Leading Index will be delayed due to the referendum in the United Kingdom. It is anticipated the data will be available again in September. The WSU Leading Index will be available again at that time.
Read a further analysis of the monthly Index activity.
| | | |
| --- | --- | --- |
| | Contact Us | |
Center for Economic Development and Business Research
1845 Fairmount
Wichita, KS 67260-0121
Phone: (316) 978-3225
FAX: (316) 978-3950
e-mail: cedbr@wichita.edu
CEDBR NEWS

All New
Kansas Economic Data Site

We've recently launched an all-new website showcasing data all across the state of Kansas. While you can still find data at our standard website, this website will focus less on commentary and more on the data.


WSU Connections





Discover Kansas
Real Estate Data

Wichita State University's Center for Real Estate has just launched a brand new website. While the appearanced has been improved with some modern touches, the same great resources are available and easier to use than before.


In the news
A record 60.6 million Americans live in multigenerational households, The PEW Charitable Trusts, August 2016


The Fed's shifting perspective on the economy and its implications for monetary policy, Brookings, August 2016


For a Better Economy, Add Commuter Rail?, CityLab, August 2016


Productivity decreased 0.4 percent from Q2 2015 to Q2 2016, Bureau of Labor Statistics, August 2016


Retail Sales Hold Steady In July, National Retail Federation, August 2016


No love, actuary, The Economist, August 2016


Past Articles
Other Resources




The Wichita-Sedgwick County Planning Department has released the 2016 Development Trends Summary, which includes residential, industrial, and commercial activity.



The Kansas Statistical Abstract provides a broad level of statistics at the state, county, and city level.