| | | |
| --- | --- | --- |
| | e-Connection Preview | |
| | | |
| --- | --- | --- |
| | Unemployment Insurance Beneficiaries | |
Profile of Unemployment Insurance Beneficiaries in Wichita, 1st Quarter 2016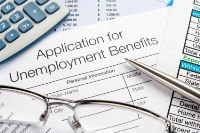 There was an average of 14,650 unemployed people in the Wichita metropolitan area in the first quarter of 2016, approximately 46 percent of whom collected unemployment insurance benefits. In the first quarter of 2016, there were approximately 6,735 people, age 16 and over, who collected unemployment insurance benefits. That is a decrease of approximately 18 percent from the fourth quarter of 2015.
In the first quarter of 2016, three industries accounted for 55 percent of unemployment insurance beneficiaries in the Wichita area; manufacturing, construction, and administrative and support and waste management and remediation services. These three industries also have a proportionately high level of unemployment insurance, when compared to area employment. Across all subsectors of manufacturing, there is a significantly lower level of educational attainment in beneficiaries of unemployment insurance than in the general labor force. Sixty-three percent of these unemployment insurance beneficiaries have no more education than a high school diploma.
Read the full Wichita unemployment insurance beneficiaries report.

| | | |
| --- | --- | --- |
| | Misery Index | |
Misery Index Decreasing in U.S.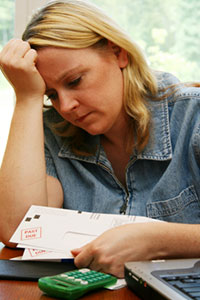 Between the first and second quarters of 2016, the general level of misery experienced by people in the United States decreased and remains well below the 2015 level. This can be attributed to continued decreases in the unemployment rate, low levels of inflation and increases in housing prices. The level of misery in Kansas also decreased between the first and second quarters and remains below the 2015 level.
Within each of the metropolitan areas in Kansas, the misery index remains lower than in the United States as a whole.
The Misery Index, as calculated by the Center for Economic Development and Business Research (CEDBR), includes the following components:
The Consumer Price Index (CPI) from the Bureau of Labor Statistics
The House Price Index (HPI) from the Federal Housing Finance Agency
Unemployment Rates (UR) from the Bureau of Labor Statistics
| | | |
| --- | --- | --- |
| | INFLATION AND PRICES | |
Midwest Annual Inflation Rates Change Direction, April 2016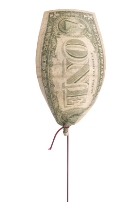 The Consumer Price Index is used to calculate inflation, or the change in price of a basket of goods and services, as it impacts consumers; whereas, the Producer Price Index measures changes in selling prices, thereby expressing price changes from the perspective of the seller who produces a particular commodity.
A slide presentation updated with April 2016 data shows the Midwest inflation rate saw both an increase and decrease from March to April. While the urban metropolitan areas noticed a 0.09% increase, the non-metropolitan urban areas saw a 0.22% decrease.
The Producer Price Index data shows that prices in the United States have increased from April 2015 to April 2016 for aircraft (0.8 percent). During that same time period, the index decreased crude petroleum (-22.8 percent), natural gas (-26 percent), slaughter livestock (-12.3 percent), sorghum (-32.4 percent) and wheat (-19.7 percent).
Access this slide presentation.
| | | |
| --- | --- | --- |
| | Employment Situation | |
Unemployment Rates Fall in Kansas MSAs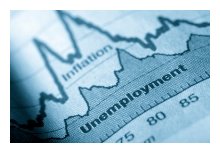 The unemployment rate for Kansas, as a whole, fell by 0.6 percentage points from March of 2016 to April of 2016. Topeka and Wichita saw the largest decrease, falling by 0.7 percentage points, while Lawrence and Manhattan followed suit with a decrease of 0.4 percentage points.
A slide presentation is available with additional employment and unemployment data for Kansas and its four metro areas.
| | | |
| --- | --- | --- |
| U | POPULATION RESEARCH | |
Kansas Population Forecast: Micropolitan Areas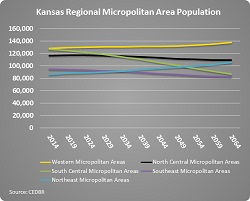 The micropolitan areas throughout Kansas are forecast to have a wide dispersion in their population growth projections for the next fifty years, ranging from a decline of 44.5 percent to an increase of 86.1 percent from their 2014 population. The two regions expected to see population growth in their micropolitan areas in Kansas are the Western and Northeastern portions of the state. The western micropolitan areas are, on average, are projected to grow 7.5 percent through 2064, while the northeastern micropolitan areas are projected to grow 22.4 percent, on average.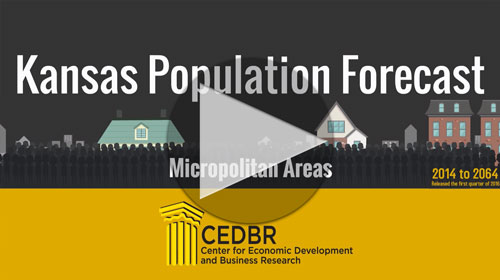 | | | |
| --- | --- | --- |
| | WSU INDICES | |
Current and Leading Indices Improve, March 2016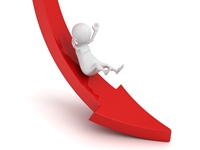 From February to March, the WSU Current Conditions Index deteriorated slightly by 0.2 percent and, after improving at the beginning of the year, the Leading Index remained the same. The Current Conditions Index increased year-to-year by 0.5 percent, with the Leading Index increasing 0.1 percent from February 2015 to March 2016. In addition, the Leading Index is forecasting a 0.51 percent decrease in economic activity over the next six months.
Read a further analysis of the monthly Index activity.
| | | |
| --- | --- | --- |
| | Contact Us | |
Center for Economic Development and Business Research
1845 Fairmount
Wichita, KS 67260-0121
Phone: (316) 978-3225
FAX: (316) 978-3950
e-mail: cedbr@wichita.edu
CEDBR NEWS

UPcoming Webcast

Looking for data for a business plan, expansion, or to market a new product? Learn to find data and interpret it using several private and public data resources.

Join us, July 13th & 14th, for our two-day webcast- Data: How to Get It, Use It, and Make Better Decisions.

WSU Connections




In the news
America's Shrinking Middle Class: A Close Look at Changes Within Metropolitan Areas, The PEW Charitable Trusts, May 2016


Employment and disconnection among teens and young adults: The role of place, race and education, Brookings, May 2016


Geographic Inequality Is Swallowing the Recovery, CityLab, May 2016


Regional and State Employment and Unemployment - April 2016, Bureau of Labor Statistics, May 2016


Department of Energy Announces 14 New Projects for Window Efficiency Technologies, Department of Energy, May 2016


The Appeal of the Euro, The Economist, May 2016


Past Articles
WIRE COVERAGE

2016 WIRE EVENT - WRAP-UP

"LOVED the information. It was great to learn that others are brainstorming and working on a solution for restoring my hometown of Wichita."
--
"It was all fabulous, insightful, enlightening!"
--
"Thank you for this opportunity to reconnect to the acadmenic community and this important endeavor."



CEDBR held the second Wichita Industry Research Exchange on Thursday, April 28th. The event highlighted issues related to Entrepreneurship in Wichita and across the state.

Video recordings will be available soon!