| | | |
| --- | --- | --- |
| | e-Connection Preview | |
| | | |
| --- | --- | --- |
| | Kansas EMPLOYMENT Situation | |
Kansas MSAs Saw Increase In Unemployment Rates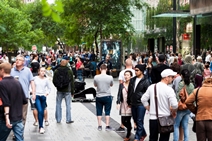 The unemployment rate for Kansas, as a whole, increased by 0.8 percentage points from December of 2015 to January of 2016. Topeka had the largest increase, raising by 1.1 percentage points, while Wichita followed with an increase of 0.9 percentage points, then Lawrence with an increase of just 0.8 percentage points, and finally Manhattan with an increase of 0.7 percentage points.
A slide presentation is available with additional employment and unemployment data for Kansas and its four metro areas.
View the January slide presentation.
| | | |
| --- | --- | --- |
| | Transportation and Utilities Employment | |
Transportation and Utilities: Industry Changes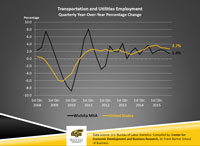 During the fourth quarter of 2015, transportation and utilities employment in Wichita stood at 10,000. This is up 3.4 percent from the third quarter of 2015, and up 1.4 percent from the fourth quarter of 2014.
This graph displays the percentage change in transportation and utilities employment in Wichita compared to that of the U.S.
The Wichita Inudstry News and Developments report below contains more details regarding local business changes announced in the fourth quarter of 2015, as well as the notable expansion and construction taking place in Wichita's transportation, warehousing and utilities industries.
| | | |
| --- | --- | --- |
| | INFLATION AND PRICES | |
Midwest Annual Inflation Rates Decrease January 2016 to February 2016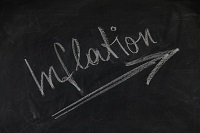 The Consumer Price Index is used to calculate inflation, or the change in price of a basket of goods and services, as it impacts consumers; whereas, the Producer Price Index measures changes in selling prices, thereby expressing price changes from the perspective of the seller who produces a particular commodity.
A slide presentation updated with February 2016 data shows the Midwest inflation rate decreased from January to February in urban metros and in non-metro areas.
The Producer Price Index data shows that prices in the United States have increased from February 2015 to February 2016 for aircraft (0.2 percent). During that same time period, the index decreased crude petroleum (-49.4 percent), natural gas (-21.4 percent), slaughter livestock (-12.1 percent), sorghum (-23.6 percent) and wheat (-23.9 percent).
Access this slide presentation.
| | | |
| --- | --- | --- |
| | Wichita Industry News | |
2015 Fourth Quarter Wichita Industry News and Developments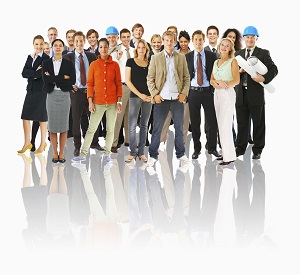 Review major industry announcements by industry sector from 2015 and an overview of statistical trends within each sector for the fourth quarter. Industry news is presented for industries such as mining and construction, manufacturing, wholesale and retail trade, transportation, information services, and leisure and hospitality, among others.
Access the industry employment slides.
| | | |
| --- | --- | --- |
| U | POPULATION RESEARCH | |
Kansas Population Forecast: Regional Growth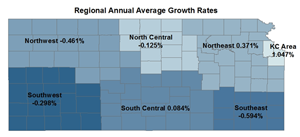 The state of Kansas population is projected to have an average annual growth rate of 0.4 percent over the 50 years forecasted. This is projected to be slightly lower than Kansas' annual average population growth from 1960 to 2010, which was 0.5 percent. Over the forecasted period, Kansas' overall annual population growth rate is forecast to decline from 0.5 percent in 2019 to 0.3 percent in 2064.
| | | |
| --- | --- | --- |
| | Contact Us | |
Center for Economic Development and Business Research
1845 Fairmount
Wichita, KS 67260-0121
Phone: (316) 978-3225
FAX: (316) 978-3950
e-mail: cedbr@wichita.edu
CEDBR NEWS

New Employee

Jill Johnson joined the Center for Economic Development and Business Research (CEDBR), on Monday, March 28th. Jill will serve as an Event Manager for the Economic Outlook Conferences (EOC) and Wichita Industry Research Exchange (WIRE) events. She will also manage special projects for the CEDBR.

Jill is a native of Kansas and a WSU graduate, recently relocated to Wichita from the Dallas / Fort Worth area.

WSU Connections

In the news
U.S. Economy at a Glance: Perspective from the BEA Accounts, Bureau of Economic Analysis, March 2016


Income Inequality, Social Mobility, and the Decision to Drop Out Of High School, Brookings, March 2016


The Gendered Effects of Part-Time Work, CityLab, March 2016


A Proper Reckoning, The Economist, March 2016


The Foundation Of Our Future Cities Is In Place, The Atlantic, March 2016


20 Countries, Including the U.S., Back Greater Investment in Clean Energy, The PEW Charitable Trusts, February 2016

Past Articles