| | | |
| --- | --- | --- |
| | WICHITA ECONOMIC OUTLOOK CONFERENCE | |
Speakers Announced for 2015 Wichita Economic Outlook Conference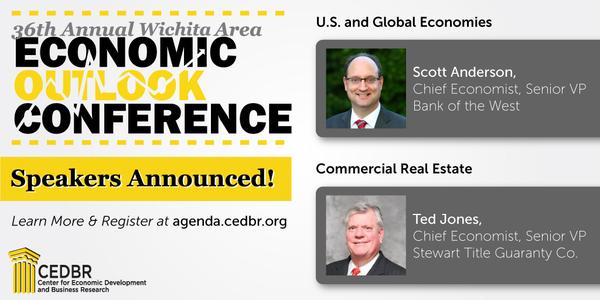 Scott Anderson, chief economist and senior vice president for Bank of the West, and Ted Jones, chief economist and senior vice president for Stewart Title Guaranty Co., will speak at the 36th annual Wichita Area Economic Outlook Conference hosted by Wichita State University's Center for Economic Development and Business Research. The event will be held from 7:30-11:30 a.m. Thursday, Oct. 1, in the Century II Convention Hall.
Anderson will be presenting on the U.S. and global economies. Anderson has appeared in numerous print, television and radio media outlets, including the New York Times, Washington Post, Los Angeles Times, Bloomberg, CNBC and NPR.
In his role at Bank of the West, Anderson analyzes international, national and regional economic trends and provides forecasts for Bank of the West management, business lines and clients.
Jones will be presenting on commercial real estate. Jones is an accomplished speaker, typically giving more than 150 presentations on real estate and the economic outlook each year.
Currently, Jones addresses the information needs of internal and external customers, conducts on-going research and supports economic and financial analysis for the company and its customers.
Registration for the Economic Outlook Conference is now open. The $115 ticket price includes breakfast. Check www.agenda.cedbr.org often for updates about the conference.
| | | |
| --- | --- | --- |
| | ECONOMIC INDICATORS EMAIL SUBSCRIPTION | |
NEW: Subscribe to Monthly Indicators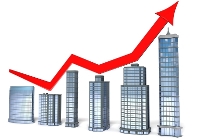 The Center for Economic Development and Business Research, part of the W. Frank Barton School of Business at Wichita State University, has put together a monthly email that displays economic indicators for Wichita, Kansas, and the United States.
This high-frequency economic data will include the following:
manufacturing hours and earnings

civilian labor force employment

current and leading indices

industry and production indices

consumer price index

interest rates

consumer sentiment

new housing units

new housing valuation

real estate transfers

single-family home sales

electricity usage

Wichita Dwight D. Eisenhower National Airport activity
If you would like to subscribe to this new resource, please do so at www.subscribe.cedbr.org.
In the future these emails will be delivered mid-month each month.
| | | |
| --- | --- | --- |
| | WICHITA COST OF LIVING INDEX | |
Wichita's Grocery Index 6.1 Percent Below National Average, First Quarter 2015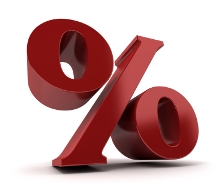 The Council for Community and Economic Research released the annual average Cost of Living Index for 265 urban areas for the first quarter of 2015. Wichita's overall Index value was almost 9 percent below the national average of 100. The most expensive urban area in which to live was New York (Manhattan), N.Y., with an Index value more than twice that of the national average. The least expensive urban area was McAllen, Texas, which was more than 22 percent below the national average.
To subscribe to the Cost of Living Index report, or to learn more about The Council for Community and Economic Research, visit their website.
| | | |
| --- | --- | --- |
| | INFLATION AND PRICES | |
Midwest Increase in Inflation Rates May to June 2015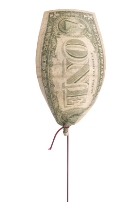 The Consumer Price Index is used to calculate inflation, or the change in price of a basket of goods and services, as it impacts consumers; whereas, the Producer Price Index measures changes in selling prices, thereby expressing price changes from the perspective of the seller who produces a particular commodity.
A slide presentation updated with June 2015 data shows the Midwest inflation rate increased in urban metros and non-metro urban areas from May to June.
The Producer Price Index data shows that the price in the United States has remained unchanged from June 2014 to June 2015 for aircraft. The Index decreased in that same period by 1.4 percent for crude petroleum and 0.9 percent for slaughter livestock.The prices increased for natural gas (12.9 percent), sorghum (4.2 percent) and wheat (10.3 percent).
| | | |
| --- | --- | --- |
| | KANSAS EMPLOYMENT SITUATION | |
April to May Unemployment Increased Across Kansas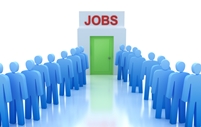 The unemployment rate for Kansas, as a whole, increased by 0.2 percentage points from April to May of 2015. The Wichita, Topeka, Manhattan and Lawrence MSAs all experienced an increase in the unemployment rate for that same period, increasing by 0.2 percantage points in Wichita and Topeka and by 0.3 percentage points in Lawrence and Manhattan.
A slide presentation is available with additional employment and unemployment data for Kansas and its four metro areas.
| | | |
| --- | --- | --- |
| | WSU INDICES | |
Decrease in Indices from April to May 2015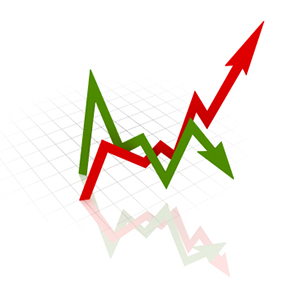 From April to May, the WSU Current Conditions Index decreased 0.2 percent, and the Leading Index decreased 0.6 percent. The Current Conditions Index decreased year-to-year by 0.2 percent, while the leading index decreased by 1.5 percent from May 2014 to May 2015. In addition, the Leading Index is forecasting a 0.72 percent decrease in economic activity over the next six months.
Read a further analysis of the monthly Index activity.
| | | |
| --- | --- | --- |
| | WSU BUSINESS BOOSTER SERIES | |
WSU's Business Booster Series

WSU's Center for Entrepreneurship and Meritrust Credit Union present the fall 2015 Business Booster Series. Formulated for the self-made business owner and fortified with the knowledge of fellow business mavericks, these three-hour workshops are a fast-acting dose of practical know-how you can immediately put to use to beef up your business' bottom line.
Supercharge your success. Make your reservations today by calling (316) 978-3000 or visit www.wichita.edu/BusinessBooster to learn more.
Questions? Please contact Wendy Veatch, Director of Outreach Programming, at (316) 978-5219 or Wendy.Veatch@wichita.edu.
| | | |
| --- | --- | --- |
| | Contact Us | |
Center for Economic Development and Business Research
1845 Fairmount
Wichita, KS 67260-0121
Phone: (316) 978-3225
FAX: (316) 978-3950
e-mail: cedbr@wichita.edu
CEDBR NEWS

As part of the W. Frank Barton School of Business at Wichita State University, CEDBR is delighted to welcome our new dean, Anand Desai.

Desai assumed his role at the Barton School on the first of July.

For those who do not have the opportunity to meet Desai before the fall, you can expect to see him at the Wichita Economic Outlook Conference where he will provide closing remarks.

KNOWLEDGE AND SKILLS SERIES

CEDBR has conducted a study to estimate the skill level of the employed workforce in the Wichita MSA and other MSAs. Data on the skill and knowledge levels required to perform various occupations will be provided in the following series of eConnection articles:

WSU Connections




In the news
A World Without Work, The Atlantic, July 2015


Whatever happened to middle class income gains?, Brookings, July 2015


How Much Are You Willing to Pay to Live in America's Best Neighborhoods?, CityLab, June 2015


Trends in High School Dropout and Completion Rates in the United States: 1972-2012, National Center for Education Statistics, June 2015


College Enrollment and Work Activity of High School Graduates, BLS, May 2015


Annual Capital Expenditures Survey, U.S. Census Bureau


Past Articles